Us western New Yorker's  have a guy named Carl Palidino.  Politically, he's the NY co-chair for Trump's campaign, a member of the Buffalo Board of Education, co-founder of the Tax-payer Party.  He's also a developer who owns Ellicott Development Co. The issue that is going on at the moment involves his a fore mentioned verbal issues.
When asked about what he wanted to see in 2017 He said:
"I'd like her to return to being a male and let loose in the outback of Zimbabwe where she lives comfortably in a cave with Maxie, the gorilla,"
and
"Obama catches mad cow disease after being caught having relations with a Herford. He dies before his trial and is buried in a cow pasture next to Valerie Jarret , who died weeks prior, after being convicted of sedition and treason, when a Jihady cell mate mistook her for being a nice person and decapitated her,"  (source ArtVoice)
He admits that he made these comments.  According to him the comments weren't racist, they were about how the Obamas are elitist. The comments  were apparently meant only for his friends but he clicked the wrong button. He also believes that the reaction of people is evidence of discrimination against him, especially by the Board of Education.
While I agree elitism is a problem, so are people who blow off things like the above as jokes. His supporters on the board(there are 2)  say he should be forgiven for his comments.
Like he was forgiven for sending dirty, racist, elitist e-mails. (link here- WNYMedia)
These e-mails, he said, were supposed to be between he and his friends, despite often using his business and government e-mail accounts. any of some of these friends were not amused. Those that were unamused, sent the e-mails on  to others.
Like he was forgiven for the tweet"Lynch @LorettaLynch let the Grand Jury decide
A spokesman took responsibility for what they said was a typo when asked by a local reporter Michael Wooten, why.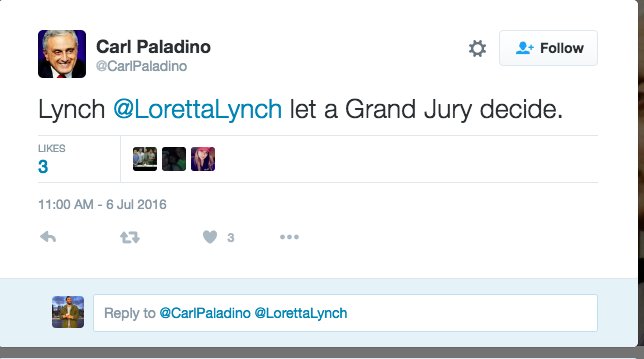 Above is a screen grab caught by Gideon Resnick before it was deleted and replaced.
He was still allowed into the Buffalo school board. That explains a few things.
He said he would "Whack" anyone who went off the reservation in reference to the Republican convention.
He routinly
And so on…
Understandably annoyed, Governor Cuomo addressed Paladino's comments saying.
"While most New Yorkers know Mr. Paladino is not to be taken seriously, as his erratic behavior defies any rational analysis and he has no credibility, his words are still jarring. His remarks do not reflect the sentiments or opinions of any real New Yorker and he has embarrassed the good people of the state with his latest hate-filled rage,"
Some of us do take him seriously though. He was put in a decision making position on the Buffalo Board of Education. All ready failing the children of Buffalo, people decided to add him to the mix.
Other reactions to Paladino's most comments includes rally of about 300 people in Niagara Square. A digital billboard stating he's "Not Suitable for Children".  (source: Buffalo News) Given 70% of students the Education Dept are students of color, I can see why they would say that.  The Buffalo School Board has also taken a vote to oust Paladino 6-2  (source: Buffalo News   WGRZ)  As of writing this, he refuses to resign.
He has supporters aside from the two mentioned.  Many believe he is exposing the corruption and racism in the government. They respect his honesty , hard work, and his willingness to piss people off.
http://up.anv.bz/latest/anvload.html?key=eyJtIjoiTElOIiwidiI6IjEyMDA2NzQiLCJwbHVnaW5zIjp7ImRmcCI6eyJjbGllbnRTaWRlIjp7ImFkVGFnVXJsIjoiaHR0cDovL3B1YmFkcy5nLmRvdWJsZWNsaWNrLm5ldC9nYW1wYWQvYWRzP3N6PTF4MTAwMCZpdT0vNTY3OC9saW4uV0lWQi9uZXdzL2J1ZmZhbG8tc2Nob29sLWJvYXJkLW1vdmVzLXRvLW91c3QtcGFsYWRpbm8vZGV0YWlsJmNpdV9zenM9MzAweDI1MCZnZGZwX3JlcT0xJmVudj12cCZvdXRwdXQ9eG1sX3Zhc3QyJmFkX3J1bGU9MSJ9fSwiYW5hbHl0aWNzIjp7InBkYiI6IjM0NTQ1MzUyIiwic2VydmVyVVJMIjoiaHR0cDovL2FuYWx5dGljcy12Mi5hbnZhdG8uY29tL1ZpZGVvQW5hbHl0aWNzL3NyYy92aWRlb19sb2cucGhwIn0sIm9tbml0dXJlIjp7InByb2ZpbGUiOiJsaW4iLCJhY2NvdW50IjoiZHBzZHBzd2l2YixkcHNnbG9iYWwiLCJ0cmFja2luZ1NlcnZlciI6ImxpbnR2LjEyMi4ybzcubmV0IiwicGFyZW50UGFnZVVSTCI6Imh0dHA6Ly93aXZiLmNvbS8yMDE2LzEyLzI5L2J1ZmZhbG8tc2Nob29sLWJvYXJkLW1vdmVzLXRvLW91c3QtcGFsYWRpbm8vIiwicEluc3RhbmNlIjoicDAiLCJwbGF5ZXJOYW1lIjoiQW52YXRvVW5pdmVyc2FsUGxheWVyIn0sInJlYWxUaW1lQW5hbHl0aWNzIjp0cnVlfSwiYW52YWNrIjoiYW52YXRvX21jcF9saW5fd2ViX3Byb2RfNGMzNmZiZmQ0ZDhkOGVjYWU2NDg4NjU2ZTIxYWM2ZDFhYzk3Mjc0OSIsImh0bWw1Ijp0cnVlfQ==